ANNOUNCING THE
CLASS OF 2019
Three emerging food businesses have been chosen as winners in the 2019 Maker to Market food business accelerator run in partnership by Lakewinds Food Co-op and nonprofit food hub The Good Acre. Local small-batch food producers were invited to apply for the program from January-February and the winners were selected by a committee and tasting panel of food professionals including Lynne Rossetto Kasper and Yia Vang.
The winning makers include Patricia Parks of Northern Harvest Crisp, and Katie Iwanin and Amanda Zweerink of Wallflour Foods.
The Maker to Market accelerator provides local food makers with tools and resources to scale their businesses to serve Lakewinds' retail markets.
"I'm very excited about being chosen for the Maker to Market program," says Patricia Parks. "I love learning new things and am really excited to see my product on a grocery store shelf."
Each year, two to five makers are chosen to participate. This year's program generated applications from makers with high quality products and great stories behind them. The criteria by which the committee and tasting panel evaluated applicants and ultimately chose the winners include:
· Do the ingredients adhere to Lakewinds' product standards?
· Will the product add a local item to the Lakewinds' merchandise mix?
· Is the maker able to use produce from The Good Acre's network of small scale farms?
· What's the likelihood for business success of the product and the brand?
"Small, local food entrepreneurs don't generally have access to resources to assist them in moving from their home kitchens to commercial kitchens and retail shelves," said Dale Woodbeck, general manager of Lakewinds Food Co-op. "Our owners have told us that they want the co-op to source more local products. Introducing local, shelf-stable or freezable products is a difficult process—there are really many processes that the entrepreneur must master while cooking up their products. The Maker to Market accelerator provides many resources, peer networking, and support, as makers transition from home kitchen to market."
Northern Harvest Crisp offers a frozen take-and-bake apple crisp. and Wallflour Foods is a line of Liege-style waffles with savory and sweet varieties. The chosen makers will receive the following benefits by participating in Maker to Market:
· Subsidized kitchen time in the shared commercial kitchen space at The Good Acre
· Training in how to scale up in a commercial kitchen
· Advice on branding, social media, packaging, labeling, and ingredient sourcing
· Information on how to work with a retailer and enter product distribution
This spring, the makers will attend three workshops to learn the basics of selling wholesale into the retail market, how to scale to a commercial kitchen, and product packaging and design. In June and July, they'll start working in the commercial kitchen to begin the production phase, and will get their product packaging and labeling ready for the store launch. In late August to early September, the products will debut on the shelves at all three Lakewinds' stores.
"As a food hub, we are excited to connect farmers and food makers for triple-bottom line benefit: farmers sell more produce, makers connect to local sustainable ingredient sources, and co-op shoppers enjoy the innovative fruits (and vegetables!) of their labor!" said Emily Paul, development director at The Good Acre.
One of the 2018 Maker to Market winners is Jennifer Alexander of Jen's Jars. "Not only did Maker to Market get me retail-ready, it introduced me to an amazing community at The Good Acre where I had great mentors," said Alexander. "The program is telling of the values and product quality at Lakewinds. The companies whose products they choose use local, nourishing ingredients that are good for you. I think more companies should be doing this."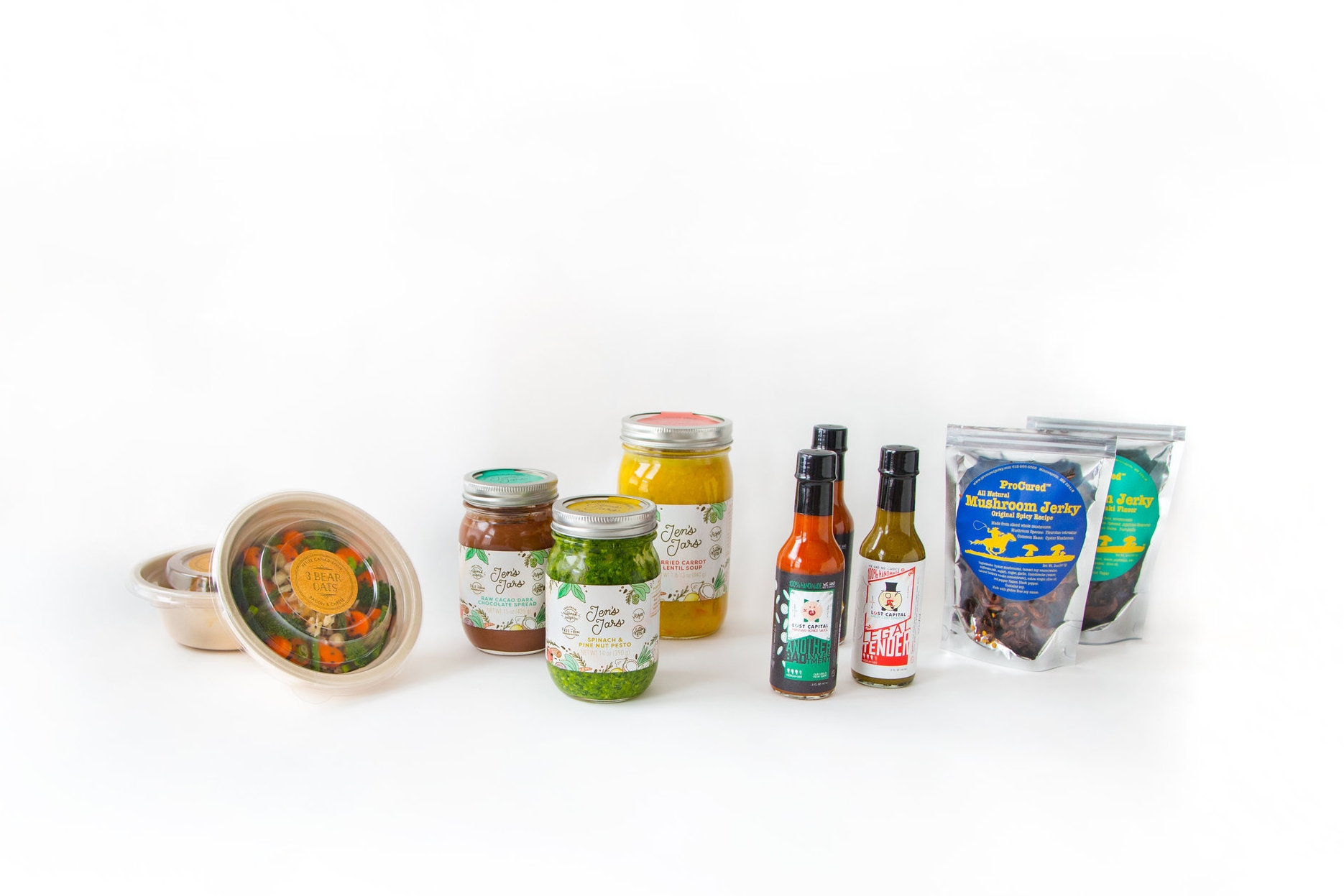 Having found herself on a journey to clean eating, Jennifer wanted to make nutrient-rich foods available to more people. Her plant-based soups and spreads incorporate fresh, whole ingredients into vibrant combinations without dairy, gluten, refined sugar, or preservatives – they show that clean eating doesn't mean compromising on flavor.

These sweet and savory organic steel cut oatmeal bowls are food for the heart, but Therese of 3 Bear Oats wanted more options for her farmers market customer base. With local ingredients and elevated flavor profiles, her ready-to-heat frozen grain bowls serve up a hearty, healthy helping of heartland.
In response to a diagnosis of high blood pressure, DJ and Anastasia began looking for ways to impart flavor into their food without adding salt. This led to Lost Capital Foods and their line of fermented hot sauces, branded with pithy names, which provide a variety of flavor forward heat levels for all Minnesota palates.
Jess combined her loves of foraging and mushrooms to create ProCured – a line of all natural, small batch mushroom jerky. These shelf stable, lightweight snacks are made from portobello and oyster mushrooms, and packed with protein. ProCured is dedicated to providing people with delicious and guilt-free snack options.
Maker to Market
CLASS OF 2017
Señoras de Salsa
Danielle Wojdyla began her professional food career at General Mills where she developed and improved products like cereals, snacks, and baked goods. From this technical background, she transitioned to community-based "social enterprise" at a local non-profit and made new connections that became the inspiration for starting a small food business. Señoras de Salsa is growing a business that empowers immigrant women and shares bold, authentic flavors.
"The support of rent in a commercial kitchen is great, but beyond that the extra attention to marketing, pricing, social media, and distribution gives a small producer room to breathe in the first few months of a new operation." –Danielle Wojdyla
GYST Fermentation Bar
Sisters Mel and Ky Guse own GYST Fermentation Bar, a small bar and café located in the Eat Street neighborhood of Minneapolis. GYST specializes in favorite everyday fermented foods including artisanal cheese, salumi, natural wine, beer, chocolate, coffee, house-made kombucha, and lacto-fermented vegetables. GYST's goal is to support and work with other artisanal producers, growers, and farmers. Their favorite saying: "We can pickle that!"
"Since one of our missions is to support small growers and farmers, it made perfect sense for us to be able to buy produce from the farmers and growers at The Good Acre...We see the increased production and business of GYST traditional pickles as a major contribution to the health and well-being of people in our community, as well as the local food system and economy." –Mel Guse
Caldo Foods
Caldo Foods LLC was established in 2012 with a vision to expand lines of healthy foods that are adaptable to a constantly changing palate and busy lifestyle. Mona Khemakhem's mission is to bring international flavors to our community using local ingredients. With the expansion and overlap of global cuisines, Caldo Foods is excited to produce food products originating from the Mediterranean coast.
"We can't say it enough – thank you again for helping us make our baby steps in this industry!" –Mona Khemakhem
Little Red Hen Foods
Karen and Peder Schweigert are the co-founders of Little Red Hen Foods' cauliflower-crust frozen pizza. Together, Karen and Peder have a combined 22 years of passionate experience in the food industry, focused on sustainable supply chains that support the growth of natural and organic grocery items. In the pursuit of healthy living, the Schweigerts wanted to eat more vegetables and only the most hearty and least processed grains. With a weakness for the perfect combination of crust, sauce, cheese, and toppings, and aspirations for more vegetables; cauliflower-crust frozen pizza is a natural answer.
"The camaraderie between the makers, especially in the kitchen, was one of the best parts of the program. We learned from each other, swapped recipes and ideas, and cheered each other on in our success." –Karen Schweigert